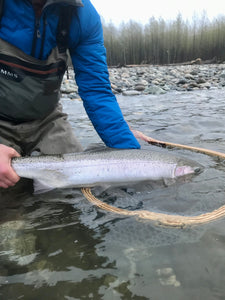 Skagit/Sauk Opening!
Your prayers have been answered! A catch and release season on the Skagit/Sauk Rivers was announced yesterday by the WDFW. Starting Saturday, March 25th 2023 the Skagit River will be open from the Dalles Bridge in Concrete to the Cascade River Bridge in Marblemount, and the Sauk River will be open from the mouth to the Sauk Prairie Road bridge. The fishery will be open Saturdays-Wednesdays through April 30th. You can see the emergency rules from the WDFW here: https://wdfw.wa.gov/fishing/regulations/emergency-rules
Whether you need to update your rod/reel setup, restock your fly selection, or grab some terminal tackle we have what you need at the shop to chase steelhead.
The rivers look to stay in shape for the forseeable future, with cooler weather  setting in and snow levels look to stay relatively low for early spring. Currently water is clear and somewhat low, so make sure to approach the river accordingly. Look for fish to be in deeper, cover laden water especially in the sunlight hours. Stop by to see what you need to encounter one of these magical fish!
---