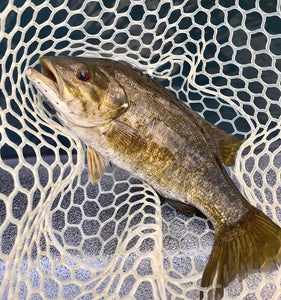 Fishing Report June 17 2022
As we progress through June warm days have eluded the Pacific Northwest. Consequentially, we have seen some impressive river flows during our snowmelt. While this may somewhat stifle your access, there is still ample angling opportunity throughout the state. As temperatures remain below normal many lakes across the state have been quite productive for trout and bass fishing, with eastside lakes being a strongpoint. Stream fishing has been somewhat more sporadic, there is still fish to be found in moving! Though you may need to step out of the comfort zone slightly, go give some new water and species a shot!
Yakima River: After quite an excessive flow for the prior couple weeks or more, the Yakima River is dropping and getting into shape. While still relatively high at this moment, the next few days should progressively improve conditions. Clarity is around 2' of visibility and steadily getting better! Wading will be quite difficult, so please ensure safety if you care to wade the Yakima anytime soon. With numerous new logs jams and many that are currently shifting, we will see different obstacles than prior to the high water. If you are looking to float, scout the water ahead or contact the shop to see current status of the stretch you're looking to fish. We recommend staying lower in the river system to float, where there are less log jams to mitigate. Otherwise, the bug life and trout should be extensive and untouched. Nymphing will be the most productive technique, though fish should be looking for adults on the surface especially larger stonefly imitations. As well, Caddisfly in #12-16, Golden and Summer Stoneflies, and PMD imitations will entice fish subsurface as well as adults. We should see better weather for the next week with light rain and moderate temperatures, hopefully entailing better river conditions!
Lakes:  The benign weather has been a blessing for stillwater fishing, keeping the trout active with bass still habituating shallow water and beds. We have been seeing productivity on lakes across the state, with bass and trout consistently being found. Locally, Rattlesnake Lake, Beaver and Pine Lakes, and Lake Alice have been good options, though there are many others to explore! We're seeing consistent water temperatures of 60 degrees in the larger lakes which is getting the bass fishing more consistent. Grab your float tube, pontoon or boat and chase some still water critters.
Eastside Lakes have been fishing very well and have seen prolific bugs, with damsels being the most prevalent. Fishing subsurface during warmer times of the day will be best with damsel nymphs, chironomids, and leech/buggers whether under an indicator or tight line. Keep an eye for rising fish early and late in the day for dry fly opportunities!
Local Rivers: Though we have seen higher than average flows, you can still find trout on our local streams. Caution should still be exercised as the water is moving rapidly! With many westside streams being dam controlled, we will continue to see clear water though still above normal. The Snoqualmie River forks will be more sporadic flow wise until we wain snowmelt, yet fishing subsurface with heavily weighted flies imitating Caddis and Mayfly nymphs #12-16 and smaller streamers like an Olive/Black Wooley Bugger #8-12 or #8 Sculpzilla on a sink tip. The Cedar River is as well relatively high, but we have had reports of nice fish being caught. Nymphing has been the name of the game, with larger Pat's Stone's #6-10 and heavily weighted Caddis and Mayfly nymphs to make sure they get down in the heavy current. Euro Nymphing has been quite productive on the Cedar! The key (as with any high water river) is to find the softer water seamlines and eddy's on the margins of rivers. You may be able to find typical shelfs/drop offs, just ensure you are comfortable accessing the water.
Saltwater: Trout fishing the Puget Sound can give yet another opportunity that can be overlooked. Plenty of beaches provide habitat for trout in the brine, just try to find ample structure for the fish (rocky structure, oyster beds, points with current breaks) and start casting! Typical flies entail Clouser Minnows in various colors (we prefer pink/white, olive/white, chartreuse/white), baitfish imitations such as Rio's Just Keep Swimming or Precious Metal, and smaller shrimp/squid patterns. Intermediate lines tend to be the most productive, though a floating line (possibly with a sinking leader/poly leader) can be utilized to fish the shallow waters the Cutthroat inhabit.
Steelhead: Summer steelhead opportunities are amongst us, as we continue to see more rivers to fish through summer we will be able to chase these fish across the state. Though you may need to keep an eye on your favorite rivers flows, you can very well find fish in the higher turbidity, focusing your aim on the travel lanes and softer inside water. Whether westside streams like the Skykomish or eastside streams like the Klickitat and Grande Ronde, grab a two handed rod and swing some flies for Summer Runs! 
Pass Lake: Chironomids, leeches, and baitfish patterns presented down deep on a full sinker or deep on an indicator rig are good bets this time of year. The browns are always looking for meat to chase and the rainbows will be eating midges all spring to stay fat. Good time for a spin around the lake in your float tube. Think low numbers but the possibility at some of the biggest fish of the season.
Montana: Lots of low water this year but these colder temps and rain will help improve the fishing. Though many streams running north out of Yellowstone have seen better days (inundated  We are well versed in the waters of Montana; from the Clark Fork to the Bighorn we know a thing or two. Stop on in as we can get you setup for a trip anywhere out west. Check out these reports for the Beaverhead and Bighorn https://www.sunriseflyshop.com/montana-fishing-reports/ 
Alpine Lakes:
We are very close to seeing many of the Alpine Lakes become accessible, with warmer overnight temperatures coming. As we progress into summer keep your opportunities open and adventure to the alpine. A good box of terrestrial dries and leeches are all one needs to find success on our local alpine lakes. Remember to adhere to leave no trace principals when you spend time in our back country.  The state has all the resources you need right here: https://wdfw.wa.gov/fishing/locations/high-lakes  
Guides Corner: If you are looking for a guided trip, we have guides looking to get you on some fish! Whether its Trout, Salmon or Steelhead, you can call Chris Senyohl of Intrepid Anglers @ (425)-890-1681, or Brett Wedeking of Tailout Anglers @ (425)-443-3782
---